Facility Details of Dinah Zike Academy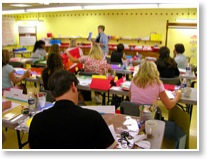 The Dinah Zike Academy is located
(view map)
in the heart of historic Comfort, Texas, in an expansive building that has large comfortable classrooms and breakout areas conducive to individual and group hands-on work and active learning.
The facility is designed to immerse all participants in their own integrated learning. A goal of the space and activities is to stimulate individual inquiry and creativity applicable to a range of content and skill development levels. It invites participants to open up new areas of exploration and professional growth for themselves.It also is set up to serve as a model for classroom organization, with teaching aids, display and storage areas and easily replicable supply stations, work stations, publishing centers and the like.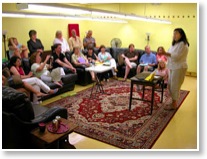 There is a comfortable lounge-breakroom area as well as computer access. Dinah Zike Academy participants also have immediate access to a large materials supply center and resource library on site for the work that will engage all participants. Break-out areas and working design laboratories support independent projects that are "in-progress."
Interesting artifacts from around the world displayed throughout the facility are not there just for decor, but rather, for use as subject matter for photo visuals to support instruction back home in teacher's own environment.
Dinah Zike Social Media
Connect with Dinah Zike on
Facebook, Twitter, and YouTube

(830) 995-3800
PO Box 340, 609 7th Street
Comfort, Texas 78013
Business Hours
Mon-Fri: 8am-5pm
(view map)