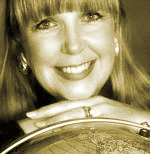 Letter from Dinah Zike

Dear Fellow Educators:


As you may know, I strive to design hands-on, inexpensive teaching aids that can be easily used and organized.

Many educators, like you, have asked me over the years how they can become more grounded in my techniques and classroom organization strategies. Now, in fact, you can become a campus, district, or national trainer.

Because I am only able to touch the "tip of the iceberg" in most workshops, here's a chance to immerse yourself in a fully developed, hands-on laboratory setting that will give you strategies to address diversified learners, meet state and national benchmarks, build student learning skills for life, and share this with others.

I want you to return home armed with a wealth of materials that you and your "institute" colleagues have created, research to inform your work, and a user-friendly training manual. Do consider working to become a District Consultant or a DZ Certified State/Regional or National Trainer.

For the Love of Learning,

Dinah Zike


P.S. I invite you to join my e-group. The e-group is a great way for me to keep in touch with you and other teachers and parents while announcing new books and sharing teaching ideas. I promise I'll not bombard you nor sell your information to anyone. I will send you communiques only about 8-10 times a year. Simply click on the icon below and complete the brief information requested.
Video of Dinah Zike "A History with Foldables"
Dinah Zike Social Media
Connect with Dinah Zike on
Facebook, Twitter, and YouTube